GPS tracked dog walking by highly experienced and loving dog walkers!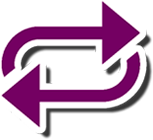 Repeating Walks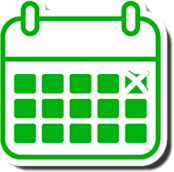 Sporadic Walks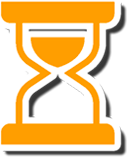 Last Minute Walks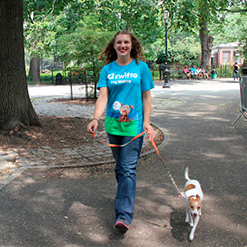 Consistent dog walker for a consistent schedule
If you have a consistent schedule, you'll be matched with a consistent dog walker, the same person who will be walking your dog for your consistent scheduled walks. If your regular dog walker happens to ever need time off, no worries! We will have one of our other qualified and experienced dog walkers fill in and will offer a complimentary meet and greet if time allows. If you have a sporadic schedule, we'll always ask your previous walkers if they're available and if not, we can set up a meet and greet with another walker.
SCHEDULE DOG WALKS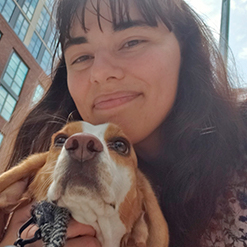 Complimentary meet and greets
Every new client will be able to schedule a complimentary meet and greet with their new walker. At the meet and greet, you'll be able to discuss your dog's specific needs, see how your pup interacts with your dog walker, and show your dog walker where the treats, leash, and food are. We want you to be thrilled with the dog walker we pair you with, so we do our absolute best to match you with a dog walker that fits your dog's specific needs!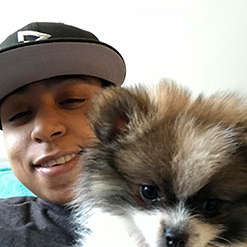 GPS tracking and photos along the way
You'll receive a text message from the dog walker on the day of your dog walk with their ETA, a text when the dog walk start and ends, a summary message with photos at the end of every dog walk, and a live route of exactly where they went!
SCHEDULE DOG WALKS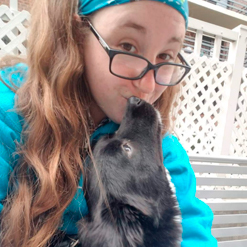 We can take your dog to the park, or on a specific route
If you usually take your dog on a specific route, or to the dog park, we're happy to follow that same route on our dog walks. Just let us know in the walk notes! Our dog walkers are able to accommodate any kind of dog walk, if you have a dog with a lot of energy, we will make sure to keep up the pace up so your dog gets plenty of exercise, and if you have a dog that likes to sniff a lot, we'll make sure they get in all the sniffs they want! You will be able to note exactly what you'd like on your dog's profile for the walker to see.
SCHEDULE DOG WALKS
Pawtastic dog walkers
The Swifto Team knows how much people care about their dogs, so we have made it a point to only hire the best dog walkers in the city. We've done this by carefully vetting every single dog walker that we work with. We ensure that our dog walkers are the best of the best, and we actually only hire less than 1% of our applicants.
SCHEDULE DOG WALKS
GPS Tracking
Insured & Bonded Walkers
Consistent Walker for a Consistent Schedule
Summary & Photos after every dog walk
Complimentary Meet & Greet for New Clients & Clients with a Consistent Schedule
No extra charge for holiday, weekend, late night, or morning walks
| | |
| --- | --- |
| 20 minutes | $25 |
| 30 minutes | $30 |
| 45 minutes | $36 |
| 60 minutes | $42 |
| 90 minutes | $54 |
Every additional dog - $7/walk
SCHEDULE DOG WALKS