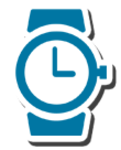 Consistent Schedule
Over 90% of the dog walks we provide are repeating, meaning you'll get to walk the same dog every time on a consistent schedule. In addition, you'll still have the option to pick up sporadic walks here and there if your schedule allows you to.

Make this your job
As opposed to other services that just provide you with a dog walking gig here and there, at Swifto this can either be your primary or secondary source of consistent income. We require a minimum of 15 walks a week and most of our dog walkers do between 25 and 40 dog walks a week, making dog walking their main or secondary job.

Insurance
Rest assured that if anything happens to you, the dog, or the property it will be covered by our insurance policy. In addition, as you'll actually be employed by Swifto as a W2 employee, you'll be covered by our workers compensation policy as well.