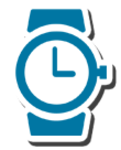 Flexible Schedule
Choose the areas you want to cover and tell us the hours that you are available. We'll send you walks that fit your schedule.

One On One Walks
All Swifto dog walkers are responsible for one dog at a time. No pack walks!

Insurance
Rest assured that if anything happens to you, the dog, or the property it will be covered by our insurance policy.