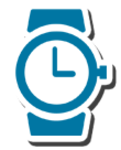 Time Flies
When you spend your day playing with dogs, time just flies by. No more sitting in a boring office job waiting for the day to be over.

One On One Walks
All Swifto dog walkers are responsible for one dog at a time. No pack walks!

Insurance
Rest assured that if anything happens to you, the dog, or the property it will be covered by our insurance policy.