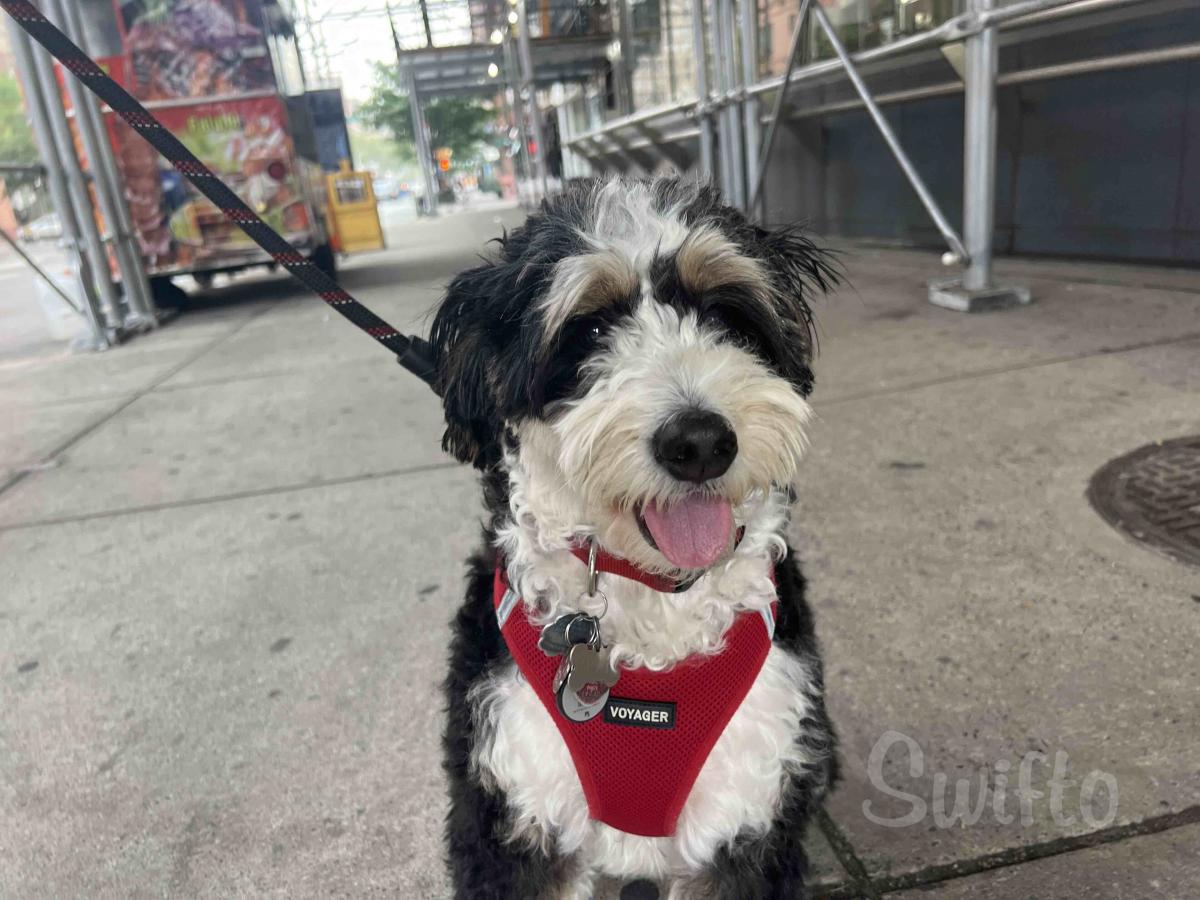 How does the two hour window work?
Your dog's walk will begin anytime during the guaranteed, two hour time frame. If your walk is scheduled between 1:00 PM and 3:00 PM, that means your dog's walk can begin at any time between those two time frames. Just note that it won't necessarily end within that time window, and the dog walker could begin their 20 minute walk for your dog at 2:50 PM meaning the walk will not end until 3:10 PM. This is okay since the walk was started within the two hour time frame! We always ask that your dog walker send you a text with their estimated time of arrival on the day of the walk so that you have a better idea of when your dog walker is coming that day.
What is the earliest time window and latest time window you provide dog walks?
The earliest time window Swifto offers dog walks is between 6:00 AM - 8:00 AM and the latest time window we offer is between 9:00 PM - 11:00 PM. However, you can select any two hour time frame within these hours! For example, you can select a time window such as between 11:15 AM - 1:15 PM.
Why even have time windows and not exact times?
Swifto's dog walkers have busy and varying schedules, making it difficult to guarantee exact times. Swifto's two hour time window ensures that our dog walkers have enough flexibility in order to be on time to walk your dog, while also accounting for delays with public transit, finding an apartment, delays with a doorman, etc. It also gives our walkers the flexibility within their schedule to do more dog walks in the same two hour window, if they'd like to. The two hour window makes things much easier for our dog walkers since they do not need to stress about arriving at exact times. This leads to increased happiness while working at Swifto which helps keep our dog walkers on the team as long as possible! In turn, this allows you to keep a close relationship between your dog and their walker! Additionally, it gives our office some flexibility in the event of last minute covers or additional walks. 
Does the two hour time window apply for puppies too?
For puppies under 6 months old, we can offer a one hour time window instead of two to help avoid any accidents. For example, between 2-3 PM would be a one hour time window. 
What about a four hour visit? 
For visits which are two hours or longer (for instance a 4 or 6 hour visit), we can provide a 1-hour time window for your dog walker to arrive, so you have a better idea when the dog sitter will start the visit and can plan accordingly. 
What about meet and greets?
Meet and greets always take place at an exact time that works for both you and your walker. 
What about overnight stays? 
We can provide a one hour time window for the morning and evening walks associated with the overnight. Any additional walks, such as a midday walk, would be added in with a two hour time window.
Otherwise, all other types of walks would need to be added in with a two hour time window! 
What if I need someone to pick or drop up my dog at an exact time?
If your dog truly needs to be picked up at an exact time, then our service would not be right for you just because we can't guarantee an exact time. Your dog walker will be happy to try and accommodate special time requests, especially if it involves puppy potty training, picking up or dropping off your pup from the groomers or daycare, administering medication, etc. But, we would not be able to guarantee these exact times. We are always happy to note your preferred arrival time on the walk notes and communicate it to the walker directly but again, we won't be able to guarantee it and only require our walkers to arrive within the designated time frame. Our commitment to you is to ensure that the walk begins within the time window. 
So, let's say your dog walker is taking your dog to a grooming appointment and they need to be there at an exact time. This will not be able to work unless the location allows windows to allow for any possible delays with the walker.
However, let's say your dog walker is picking or dropping off your dog to doggy daycare and it opens at 9 AM and closes at 5 PM, most doggy daycares will allow you to drop them off at a flexible time. In this case, the dog walker can drop your dog off between 9-11 AM and pick them up between 3-5 PM. You can then note that you prefer that the dog walker bring your dog in as early as possible within that window, and pick your dog up as late as possible so your dog can spend most of their day at doggy daycare! Since technically the dog walker is still able to pick or drop them off within those time windows, this will work. 
A two or three-hour time window is the industry standard with dog walking due to the issues that often arise with guaranteeing exact times! By providing a broader time frame, we're able to guarantee that the walks will in fact start in the time window provided.