How are we different from other dog walking apps?
Back in February of 2012, Swifto was the first to offer GPS-tracked dog walking and to take dog walking to a whole new level. Nowadays, many dog walking apps are popping up, yet none provide the high level of care and attention to detail that Swifto has always provided. While technology can be copied to some extent, it's actually the level of care, quality of the dog walkers we hire, and excellence in service  that we provide which really sets us apart.
Some of Our Core Differences Are:
Hiring Process:

At Swifto, we handpick each and every one of our dog walkers. Owning a dog previously or being experienced just with small breeds isn't enough to meet our strict experience criteria. Our walkers have to be both exceptionally knowledgeable about dogs and animal behavior and have had personal experience walking dogs professionally. In fact we only hire less than 1% of our applicants. We interview them thoroughly in person, know them by name, call their references, do a background check, and ensure they can commit to at least 6 months.

Our dog walkers are employees, and unlike other "websites" or "apps" where anyone can apply and be accepted to a dog walking "gig" by passing an online questionnaire. Swifto is a dog walking "job", and our dog walkers are relying on it for their main or secondary source of income. This ensures that the dog walkers we hire are very serious about their dog walking job, and know to prioritize it over other responsibilities or commitments they may have.

Our dog walkers are required to do a minimum of 15 dog walks a week, whereas with other companies, they do it on the side and are lucky if they do a handful of dog walks. At Swifto, they are W2 employees whereas elsewhere companies do this as 1099 contractors, which means that the app or website has no control over them and their insurance is limited (read more about our insurance coverage here). This also means that there is a lot of turnover, call outs, and no shows, since people aren't serious about the job.

At Swifto, we get applicants of that type every day who have zero experience walking dogs professionally, have many other commitments going on in their lives, and are looking to do dog walking on a "flexible schedule," "whenever they feel like it". This doesn't work as we know how important consistency and reliability is for our clients. So they aren't able to pass our initial hiring process. You can read more about our hiring process here.

Rather than hiring many, many walkers through an automatic or semi-automatic process, we know the importance of who we hire and the level of responsibility it takes to care for someone's pet. So we dedicate a lot of effort into who we hire to ensure that in addition to being dog lovers they are also in fact responsible, knowledgeable, and experienced dog walkers. In addition, even after only hiring the cream of the cream, we ensure the dog walkers we hire go through a 4 step training process which includes both theoretical and hands-on training. You can read more about our training process here.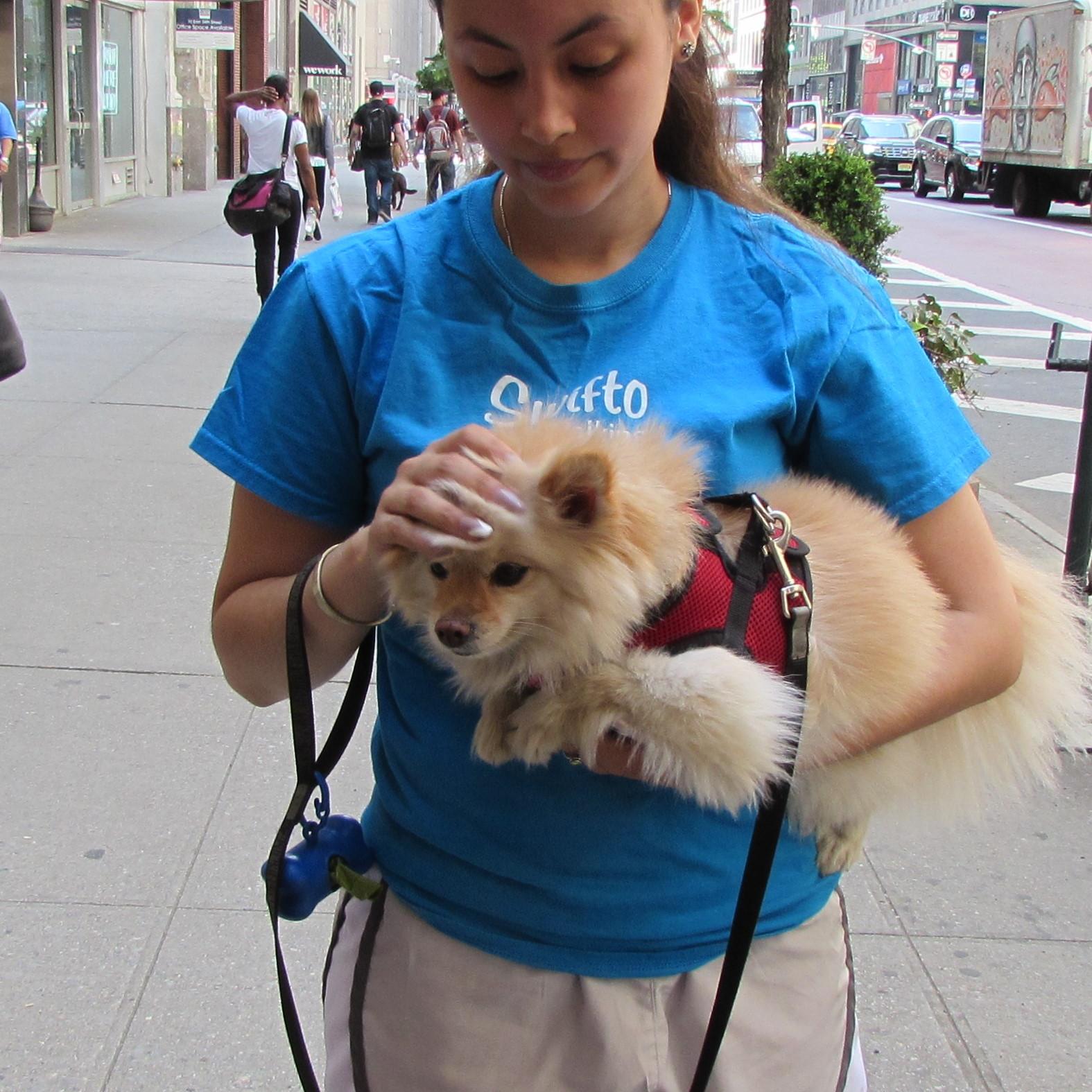 2. Quality of Service:

A quick Google search on any of our competitors will reveal horrific stories of dog walkers who are obviously not qualified to do the task at hand. Whereas at Swifto, we are top rated on both Google and Yelp and have over 70 5-star reviews.
This is in part due to our constant focus on quality, controlling which dog walker is paired with which dog, personally reaching out to the walkers even if they're only a few minutes late, constantly monitoring the routes, photos and messages the walkers write, ensuring the walkers are putting on the harnesses correctly, and by providing constant feedback to the walkers and to the clients along the way.
3. Key exchanges:
Other companies provide lockboxes, which we believe are a huge liability and safety issue, as those lockboxes can easily be broken into. Many dog walkers will have access to the code, and the keys and anything in the apartment can easily be stolen, or the keys may not be returned in time. At Swifto, we provide peace of mind to our clients by taking full responsibility over key exchanges. We have a secure safe for keys located in our midtown office where the walkers come in and transfer the keys. The keys are then signed for both physically and digitally, giving us full visibility as to where each and every key is at any given time. In addition, if a client ever needs an additional dog walk, or the dog walker is sick, we handle the key exchanges as well.
4. Guaranteed Appointments:

If you give us at least 5 business hours, we can guarantee that we'll find an available dog walker for you. This isn't the case with other websites in which you have to hope and pray that someone will be available. In addition, if a walker is sick or there is some kind of emergency, we'll make sure the dog walk is covered, including handling any key exchanges if need be.

In addition, since our dog walkers rely on Swifto as their main or secondary source of income, this increases walkers' reliability. Our policies are very strict and our dog walkers know that unless it's a true, documented emergency, we don't tolerate last minute call outs. This level of reliability can never be expected from apps where the dog walkers are doing just a few dog walks a week as a gig.
5. Consistent Dog Walkers:

If you have a set schedule, you'll get a consistent walker every time so that both you and your dog will get to know the walker and build a relationship with him or her. Other websites may claim the same, but in reality they aren't providing enough work for their dog walkers, the routes are too far from each other, or they're hiring unqualified dog walkers who aren't providing the long term commitment for the job at hand. At Swifto, we personally interview potential dog walkers individually and make absolutely sure they can provide both Swifto and any of the additional clients they take on with a 6-month commitment. In addition, we put a lot of emphasize on the routes our dog walkers take, to ensure it will be feasible for them to do in the long term. We balance out the number of days they work so they don't burn out, while providing them enough work so they don't need to look elsewhere. It's really an art, and by knowing each and every one of our dog walkers personally we're able to ensure that.
6. Personal Touch:

We're constantly meeting with our dog walkers in person when they pick up and drop off keys or when they come in for free swag or poop bags. They're always welcome to come to our office for free snacks, coffee, and beer (after hours). In addition, they sometimes come and discuss any specific issues they may have with any of their dogs and how to handle them correctly. This level of personal service isn't seen in any of our competitors, where in many cases the office isn't even located in the same state or they don't have a physical location at all.

In addition, as a Swifto client, you'll be matched with a dedicated customer service representative who you'll be speaking to every time and will really get to know you and your dog's needs.
Being in NYC for 5 years now and focusing on our growth locally while maintaining an extremely-high level of customer service and quality control is what really sets us apart from other competitors who think they can manage multiple cities at once virtually, without ever meeting the dog walkers personally or taking full responsibility to their precious task at hand.
This also translates to the type of clients we have, where we service ultra high wealth individuals, executives of fortune 500 companies, celebrities and politicians.