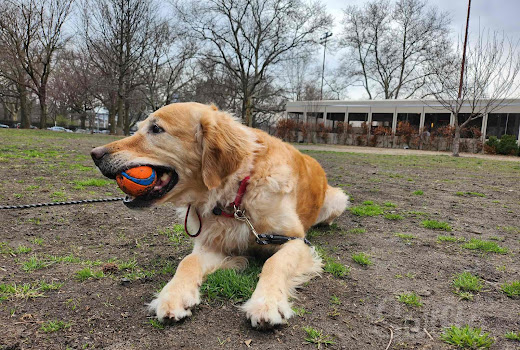 Dog parks are a perfect opportunity for some dogs to get in exercise, socialize, and enjoy the great outdoors with their favorite dog walker! Swifto understands dogs have personalities of their own, just like us, so a dog park might not be right for everyone, but if you think your pet's play styles, personality, and training are ready for some off-leash fun, Swifto is happy to oblige! 
If you want your dog to go to the park, all you have to do is let us know in the dog notes! You can also note other important details on your dog's profile for the walker to see, such as if your dog has a favorite ball they can take with them! Do you want your dog to spend 20 minutes at the park? Or a full hour? If so, it is important to factor in the time it takes for your walker to walk there and back since this is included in the total walk time duration. 
Scoping out your local dog parks can help you and your dog find the perfect environment for them to get out all that pent-up energy while remaining happy and safe! It is always a good idea to first attempt taking your dog to the park yourself during the time frame you would want your dog walker to. This will allow you to see if the park is too crowded at that time, how your dog reacts off leash with other dogs around, and how long he or she enjoys being there. You can also make sure the gates and fencing are secure, see if there are separate areas for big and small dogs to play, and if there are water drinking stations available. 
Dog parks can sometimes get busy with other dogs of varying personalities which might become overwhelming for certain dogs. The time window of your walk can help you factor in whether or not it is a good time for a trip to the park. We want to ensure your dog feels safe and comfortable so if there are any situations your walker needs to watch out for, you can always instruct them to do so. You can also instruct your walker on if they should head home early in certain instances, such as if they notice your dog is feeling timid around others or if they don't get along with specific dog breeds or even specific dogs in the neighborhood they may not be fond of. 
If you or your sweet dog is not a fan of dog parks, don't fret! Swifto understands that dog parks are not for everyone! We only instruct our dog walkers to take the dogs they walk to the dog park if the pet owner allows it and requests it specifically. We can still ensure your dog has fun in the sun with one of our experienced dog walkers who can always follow along a specific route you suggest, or simply follow your dog's lead! 
If you'd like to book a dog park visit with one of our pawtastic dog walkers or update any currently scheduled walks, email us at scheduling@swifto.com, or give us a call or text at (917) 746-7633 or you can add a walk online and simply indicate in the comments that you'd like the walker to take your dog to the park!